March 2, 2022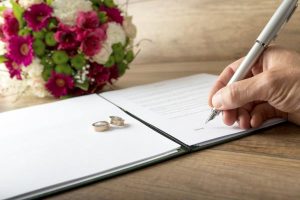 Whether you are eloping or having a huge wedding, you are going to need official witnesses for your ceremony to sign the legal marriage documents.
You will need two – one to sign for each partner. At every wedding there must be at least five people present: the couple, two witnesses, and the officiant. In Canada, witnesses must be physically present, they can not be present by video.
Witnesses must have the mental capacity and language skills to understand what they are witnessing and signing. They may not be impaired by drugs or alcohol. Some provinces have rules around age, for example in BC witnesses must be 19+, in Alberta 18+, but in Ontario it's up to the officiant's discretion (we still recommend 18+).
Witnesses can be family or friends, or they can be strangers. They do not have to be Canadian citizens or live in Canada.
There is no obligation for your honour attendants (best man/maid, maid/man of honour) to act as witnesses. If you would like to recognize someone else important to you by having them sign as a witness, the officiant can call them up at the appropriate time.
All that witnesses have to do is sign their name on the legal paperwork. They also need to provide their home address for the officiant's records or marriage register. Should something go wrong with the process of registering the marriage (lost in the post, etc) it is possible that witnesses could be called on to sign/testify that they witnessed the marriage and agree that both parties were consenting, on the date it took place.
If you are planning an elopement and do not have witnesses for your wedding, your officiant may be able to supply them. Our chapel and All Seasons Weddings both offer this service for an additional fee. If you are eloping in a public place, you can try to find witnesses on the spot.
If you are planning something unusual or a location that is difficult to reach (requiring hiking, snowshoeing, paddling, etc) double check that your witnesses are on board, or take those factors into consideration when selecting them. You want someone who is delighted to be standing on top of a mountain with you, not someone who doesn't have the proper gear or stamina.
No matter if your witnesses are your best friends or complete strangers, your wedding will hopefully be a memory you will carry with you forever.