Ottawa Wedding Chapel Reviews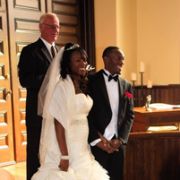 We are so blessed to have married in such wonderful wedding chapel. We will never forget this experience. Bill Buckland did a fantastic job. We picked the right person to be our wedding officiant. We can barely express the joy that we feel remembering that you shared the beginning of our life together. We would like to send our sincerest thanks to you.
- John & Deidre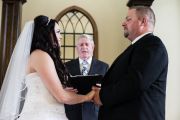 I was very happy with the service that we got. We had many wonderful comments from family and friends on how the Ottawa Wedding Chapel was so beautiful and the ceremony breathtaking. Our officiant, Michael O'Callaghan was amazing, very attentive and made sure that everything we wanted was done. He was very helpfull, answered all our questions and got us the information if he didn't know the answer already. Just amazing! The office staff were also so helpful, gave us all the information in a timely manner. Having 3 kids it was hard to find time to go visit the chapel, my daycare closed early one day and we decided to call the office to go visit that afternoon and there was no problem. We were very happy about that. I've already referred you to many friends.
- Cynthia-Ann & Francis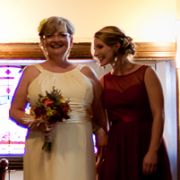 Our ceremony in your wedding chapel was the most wonderful day of our lives. We exchanged our vows in a beautiful, cozy and warm country chapel located in the village of Kenmore. Natasha St-Jean our officiant was just amazing. We were excited and at the same time nervous and Natasha guided us professionally through our ceremony with a touch of humour. If someone is looking to create a special moment for a special day I would highly recommend your chapel anytime. Thank you for making our wedding day so special. We will cherish this day for the rest of our lives.
- Lise & Luc
We thought that everything was well done, and our guests thought the food was delicious. The entire staff was helpful throughout the process and would highly recommend the Ottawa Wedding Chapel to others. We had Natasha as our officiant and she was great. Everything was just perfect for our special day! Thank you to everyone! Katie & Chester Feb 19th, 2017
- Katie & Chester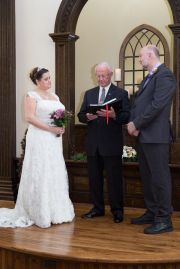 Thanks a million! You were all fantastic! :) I am telling everyone what a great venue and staff you have :) Dec 24, 2016
- Jenny and Eric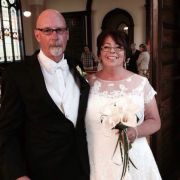 Kathleen , you are the best! Even though it was a small wedding everyone enjoyed the ceremony . The food was great and the presentation great The staff were polite and we will definately recommend your services. Thank you!
- Ghislaine & Ian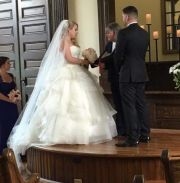 I cannot express enough how amazing Kathleen Everett was with us, from the moment we met her to see the Ottawa Wedding Chapel she made us feel so welcome and warm. We look back on our wedding day and smile at the thought of our ceremony, with our son running around at our feet she breezed through the ceremony with ease. If you want a sweet, sincere officiant who is genuinely excited to marry you and be a part of your special day, do not hesitate to meet with Kathleen!
- Karina & Arley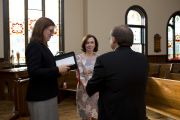 Nicola Wolters and the rest of the Ottawa Wedding Chapel staff were super supportive and enthusiastic about our special day. They were friendly, well prepared, and they spent much time not only on the ceremony, but also in completing the paperwork to ensure that our wedding certificate would be completed and submitted in a timely way.
- Leonard & Alessandra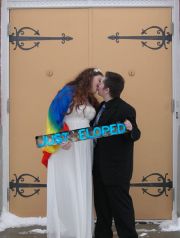 The chapel was beautiful, just the right size and with two bathrooms to get ready in. Every room was completely photogenic, and the outside was every bit as scenic as the inside. I couldn't believe the place came as cheap as it did. We were running late because of bad weather, and the staff were so kind and accommodating. Our officiant, Natasha, seemed every bit as happy and excited as we were. Everyone was so genuinely supportive and joyful, it truly made us feel cared for and celebrated. There were absolutely no issues with pronouns despite several people being transgender in my wedding party and guests, and not even a hiccup over using my husband's preferred name and pronouns in the ceremony and on the non-legal part of the marriage license. The level of care and service we got on our special day was what truly made it special. Natasha even hugged us at the end, and teared up during the ceremony! Her love for what she does was beautiful! Whether eloping like my husband and I did, or looking for an actual spot to invite all of your family and friends to, I would highly recommend the Ottawa Wedding Chapel! The location, scenery, decorations, staff, officiants, and price are perfect beyond anything I could have dreamed of! If I ever have any event like this again, I wouldn't hesitate to book this space! Feb. 15, 2017
- Alyssa & Donald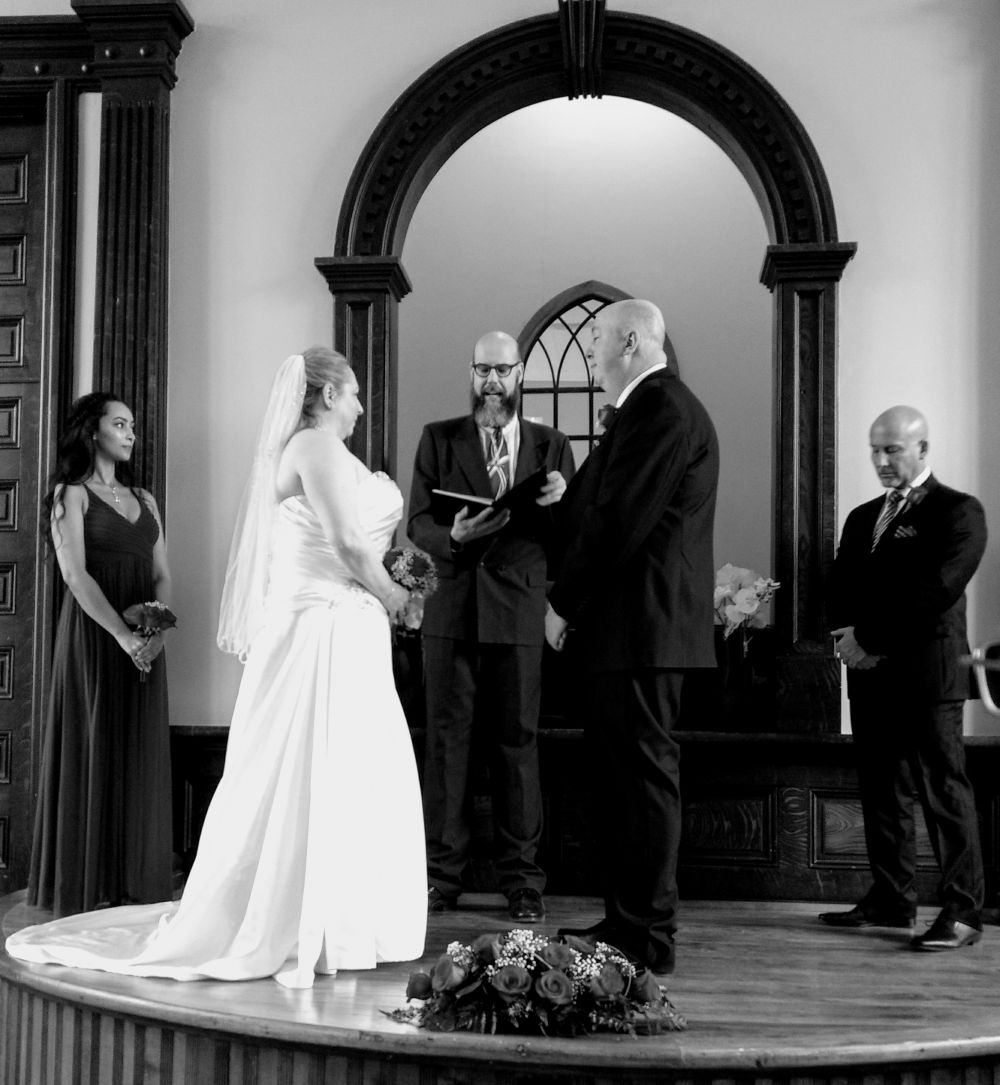 Fantastic and beautiful chapel, with wonderful people to make our special day run smoothly. Our officiant Jody (Haucke) was great. He has an air of humour that was perfect for us. We have already mentioned (the chapel) to several people. Wendy & Condy, April 8, 2018
- Wendy & Condy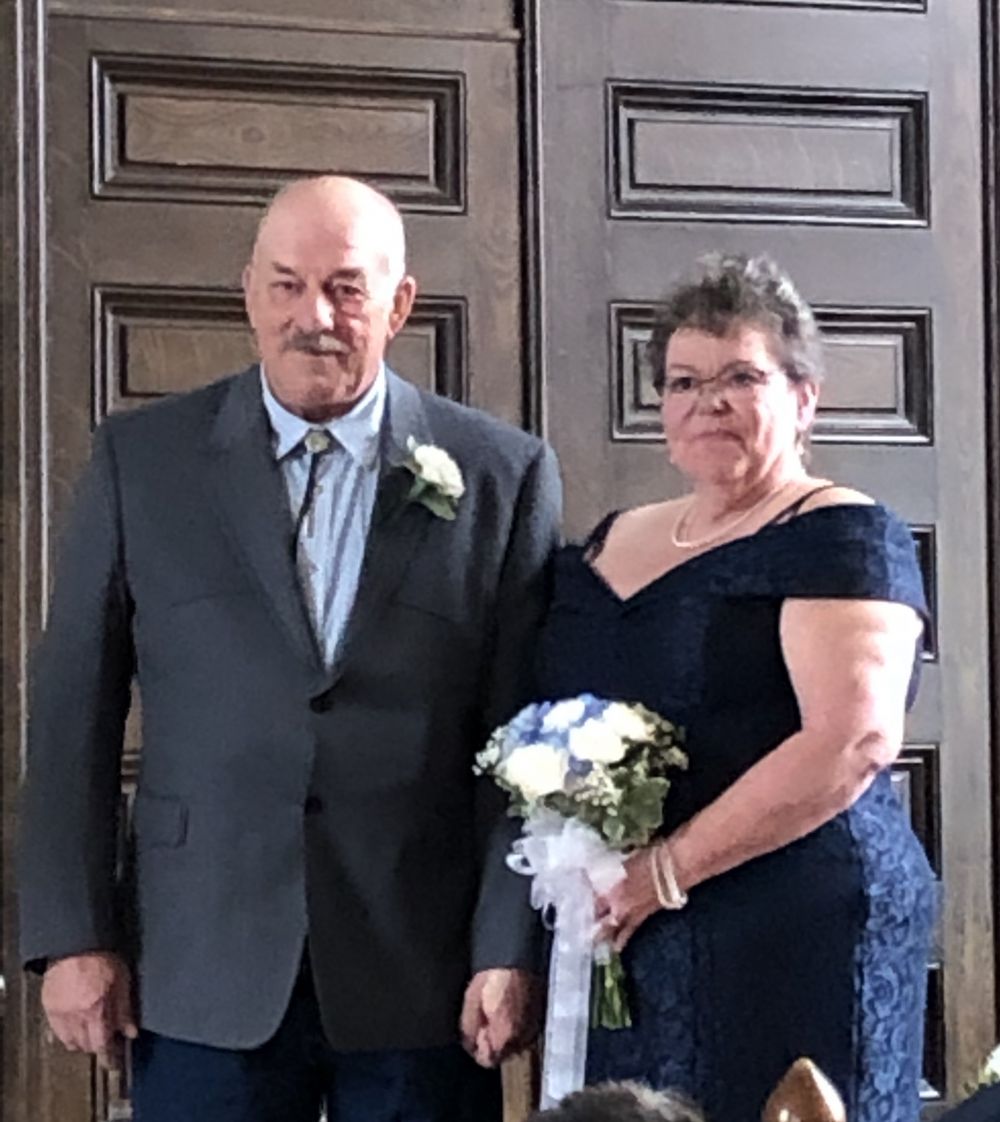 This service ended up being simply amazing!!! It was exactly what we needed and were looking for. Bonnie James was so inviting, accommodating, and, such a pleasure to work with. Her assistant was so helpful with instructing us, as well as getting things organized for music etc. It was just a perfect, stress free, beautiful ceremony. Thank you so much. April, 2019
- Roland & Karen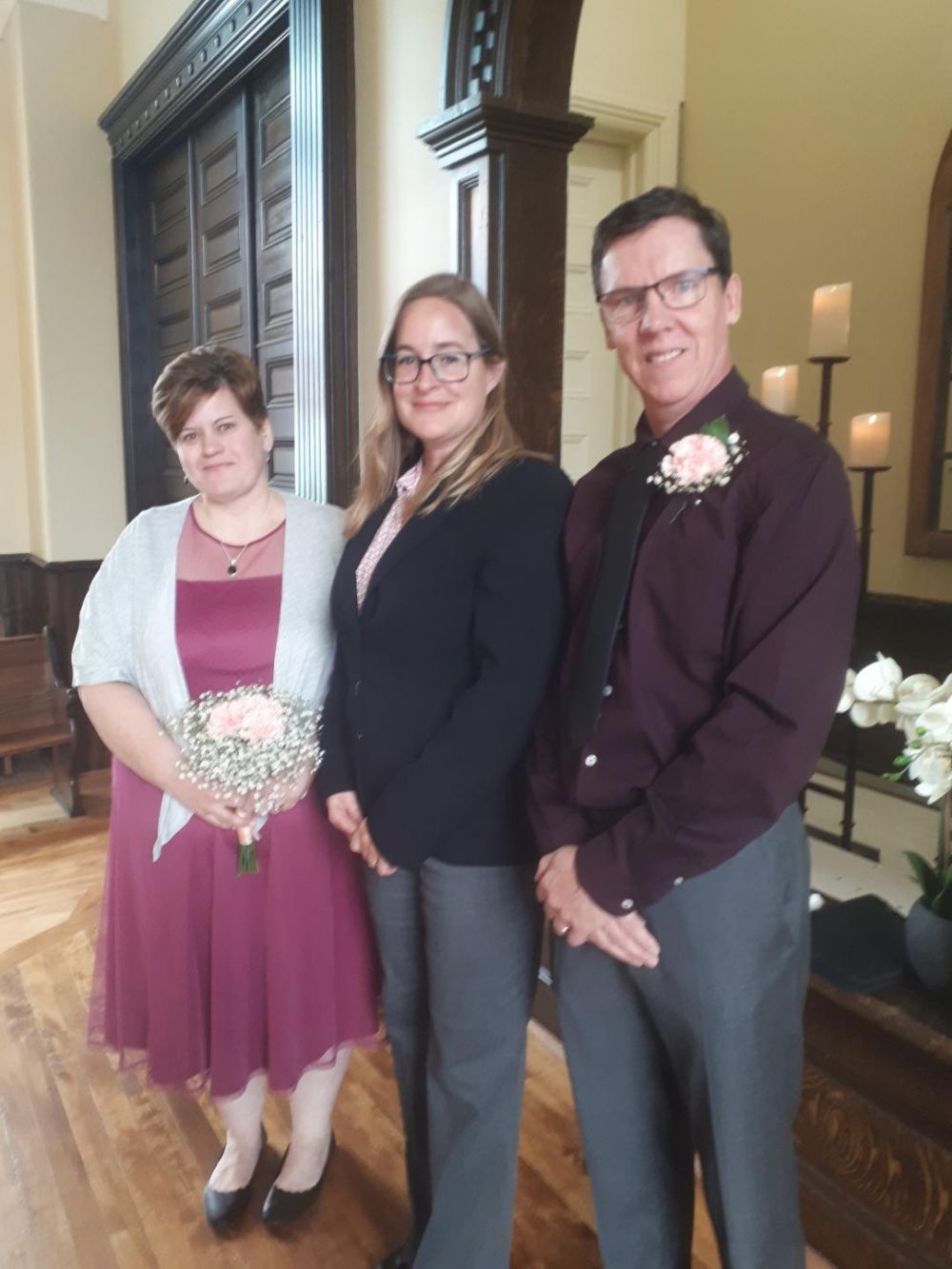 The staff was extremely friendly and accommodating to our our personal needs. We received the best of both worlds on our wedding day...the chapel setting and the chance to have a very intimate ceremony! Bonnie (James) was exceptional and put us both at ease,and our two witness that were provided for us were respectful and took the time to get to know a little bit about us before the ceremony, which we appreciated very much. We would most definitely recommend The Ottawa Wedding Chapel for your own special day! Michael & Stacey, September 2019
- Michael & Stacey
Jody (Haucke) was fantastic! He was professional but lively and fun (and a snappy dresser! Pocket watch!). Ahead of time, he asked us all the right questions, including many we hadn't thought of, and improved our 15-minute ceremony in about 5 different ways. He's a great speaker and conducted the ceremony beautifully -- you can really tell he's a trained actor! We felt completely at ease with him and super happy with our ceremony. Several of the guests also commented on how good he was. Nabil (Benbouza, from the chapel) helped us out with the wedding and did an amazing job. He was thorough, professional, and ready to answer any question, as well as anticipate needs we hadn't thought of yet. Great guy! From start to finish, we had an easy, enjoyable experience with the Ottawa Wedding Chapel and All Seasons. It's a beautiful, simple location with wonderful staff and officiants for an insanely good price. You can't go wrong! Joanna & Bernard, September, 2018
- Joanna & Bernard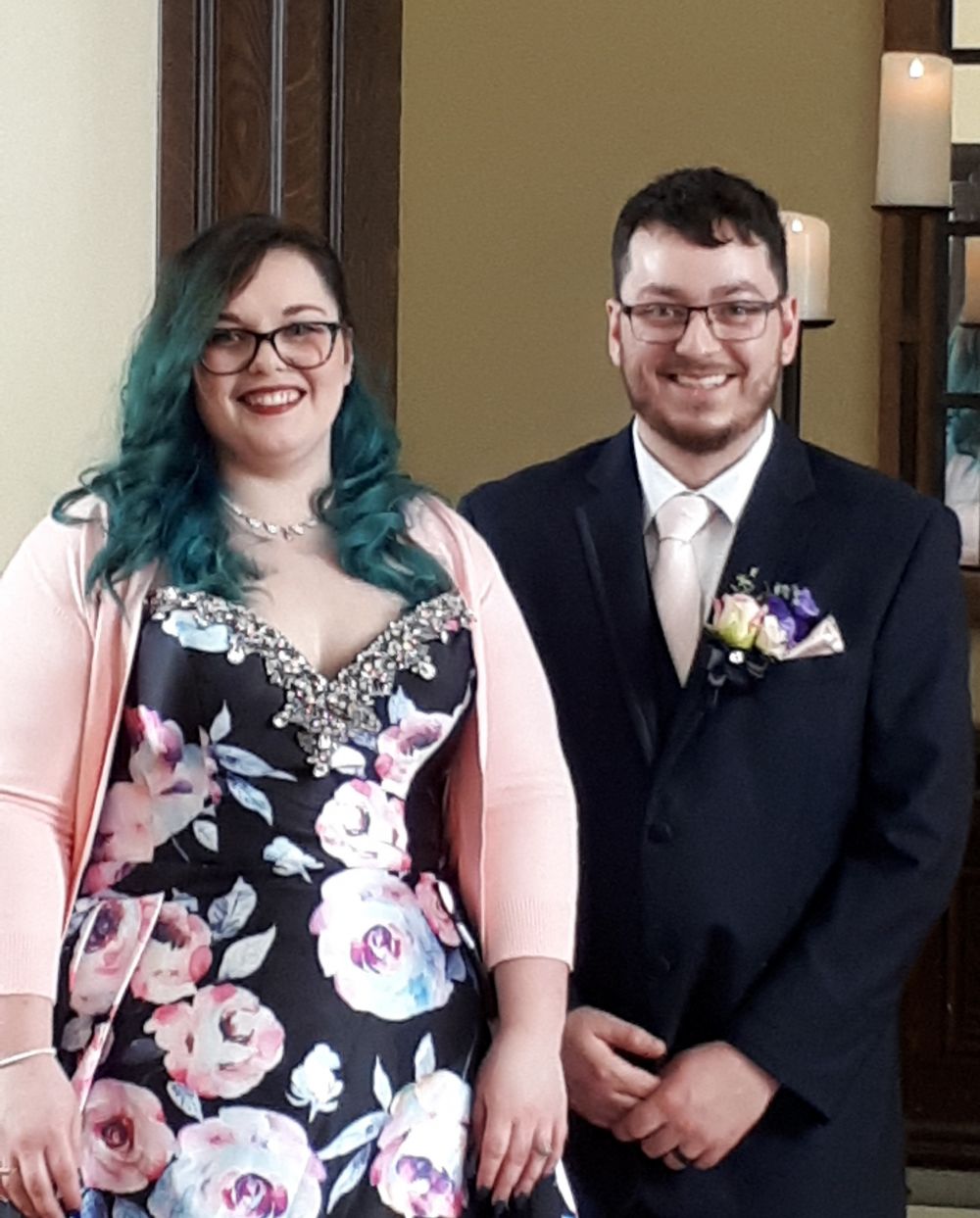 My husband and I couldn't have asked for a better ceremony. Natasha St-Jean and Bonnie James made us feel very welcome and comfortable and that's saying a lot because we are both very shy people. Even though the weather wasn't on our side that day, both of these amazing ladies made it one of the best days of our lives. Natasha helped us customize our vows beautifully and made my kids feel so special by letting them "sign" the wedding certificate with finger print stamps! Thank you all so much for making this day so memorable. xxoo Jillian & Michael Feb 2019
- Jillian & Michael
Hi Natasha, Tyler and I wanted to take the time to properly thank you for all the hard work you did before, during and I'm sure after our wedding day. You played such a pivotal role in making this day special, you went above and beyond what we felt an officiant should do, all so that we would feel comfortable and happy. We want to thank you for always being there either by phone, email or in person to chat and to answer our questions and not once did you ever make us feel rushed and we certainly appreciated your positive and charismatic attitude and personality. I remember the first meeting we had with you and you reflected that the wedding day was our day. Well we could see that you live by that motto; your flexibility, acceptance, support, care and attention to detail allowed our wedding ceremony to not only be memorable but be personal and unique to us and our family. We want to thank you for your guidance throughout the entire process. We will continue to recommend you to all our friends and family. Take care and all the best, Antoine and Tyler 07/30/2015
- Antoine and Tyler
The staff were very helpful. They answered all of our questions promptly, even on weekends. When we met with any of them, all were friendly and welcoming. We definitely would recommend them to anyone looking for wedding venue! They made the process a pleasure! It is a beautiful historical building that the decorate beautifully according to the season! Everything was beautiful and went so smoothly for both the dinner and the wedding! We didn't have any worries all we had to do was enjoy ourselves! Thank you so much!
- Sophie & John
This lovingly restored chapel is a hidden gem! I will be directing friends and colleagues to the Ottawa Wedding Chapel for weddings and naming or baptism ceremonies. I wish I had more reasons to spend more time in this peaceful, beautiful space! Pamela Leader, our officiant, was very friendly, outgoing, and patient with us as my partner and I crafted out perfect ceremony. Her responses were prompt as well and her feedback useful. Each of our experiences with everyone involved were positive and useful. From visiting the chapel to getting important instructions for the ceremony itself. The staff have been wonderful to work with. Thanks again!
- Suzanne & Paul
We had our ceremony at the Ottawa Wedding Chapel (which was also amazing and we also highly recommend) so got to work with Bonnie. Bonnie was also very helpful and friendly. We also couldn't have done it without her. All of the All Seasons wedding staff were an integral part of our day. Allan & Anita August 2019
- Allan & Anita
We just wanted to take the time to email you and say thank you from the bottom of our hearts for making our wedding day so perfect. The Ottawa Wedding Chapel felt like a hidden gem, a very unique and beautiful place to get married, we received countless compliments on it. Thank you for all of your help in planning and answering my many questions, and on the day itself to ensure things ran smoothly. You were wonderful to work with and we loved our officiant Kathleen. We have been raving about you all to our friends and will most definitely recommend you to others in the future. Olivia & Stephen, September 2018
- Olivia & Stephen
Thank you so much for all of the warmth, assistance, and well wishes you provided us for our wedding. We are so grateful to have been able to get married at the beautiful chapel in our new hometown; you helped make it perfect!
- Andy & Sonja
Natasha did an amazing job before and during our ceremony. We could not be more pleased. It was easy working with her and creating a ceremony that represented us perfectly. Thank you for everything! Caroline and Darrell
- Caroline and Darrell
Hi Natasha, Thank you so much for the fantastic job you did for (and with) us on Monday. The ceremony went off beautifully, and we have heard so many amazing comments from people. They loved the ceremony as a whole, individual bits and pieces, the light hearted aspects of it. But we have also heard great comments about you, and the job you did. You managed to guide us (and our audience) through a ceremony that spoke to their hearts, and to who we are as people. Thank you so much for being willing to try this ceremony style, and working with our sense of humour. Thank you seems so inadequate for the role you played in our big day, but it will have to do. Nigel and Kenora Sept 26th, 2016
- Nigel and Kenora
Both Mark and I were thrilled with you (Bonnie) and all of the staff at the chapel. You were warm and friendly and made the day so special for all of us. We really can't thank you enough. The words you said for our ceremony were simple, short and sweet but still filled with deep sentiments of love and made our little ceremony ours. We loved every second with you guys at the chapel and would recommend you in a heartbeat to anyone. Maryse & Mark, August 2019
- Maryse & Mark
Everyone at All Seasons Weddings was great! Very organized and stress free. Our officiant Natasha St-Jean was amazing, made us feel so comfortable and at ease. You really get quite the wedding experience in the packages they offer! Highly recommended. Thanks so much! Julie and Kevin Dec 4th, 2016
- Julie and Kevin
Most beautiful wedding ever. Kathleen (Everett) was amazing. Bonnie was so awesome. I will recommend anyone else who wants to get married to get married at the Ottawa Chapel. It's not about the quantity it's about the quality of people attending the wedding. Henri and I found true love. I thank my son and daughter in law. They got married at the church two years ago. I fell in love with the location. It feels like home. Henri & Gabrielle, July 2019
- Henri & Gabrielle
We wanted to take a moment and thank Nicola (Wolters) our officiant and Bonnie at the Ottawa Wedding Chapel in Kenmore for a great wedding day. From my first contact with Bonnie to the actual ceremony everything went smooth. We wanted a small but still romantic in sense Wedding. This was accomplished. The inside of the chapel is nice and cozy. The windows brings elegance to the place. The grounds outside were beautiful, especially for the pictures. To our surprise Nicola incorporated a lot of little things we had told her in the ceremony which was great. We had 10 kids under 10 and the 20 mins ceremony was prefect. My kids were well received and took part in our Wedding. Thank you so much for making this day even more amazing. Troy, Lyne, Peyton and Dallas June 2nd, 2018
- Troy, Lyne, Peyton and Dallas
The chapel was perfect, and the ceremony went very well. Natasha St-Jean was a very kind officiant, and the organizers did a good job throughout the process and on the day of the wedding. Our wedding was simply perfect. Wonderful. Magical.
- Sylvain & Orhana
We loved the venue and their catered reception! We are so happy we chose Ottawa Wedding Chapel! Eugene & Amy May 2019
- Eugene & Amy
Thank you so much for your help coordinating our wedding last weekend. The chapel was beautiful, and we were so happy that we chose to be married there. Thank you for all your help and hard work! Josée-Anna & Liam, September 2018
- Josée-Anna & Liam