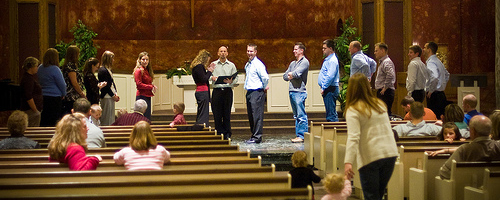 June 1, 2018
Over the years, we've had many wedding rehearsals at the Ottawa Wedding Chapel. From this experience we have concluded that: A rehearsal is great….
If it's tricky.
With a large wedding party, a rehearsal is recommended. You are co-ordinating a lot of bodies who need to enter the wedding space, get to the right place to stand, and exit the space in an orderly fashion. If your venue has any challenges (wedding party will be spaced at varying intervals on a set of stairs for example) or is outdoors and you have a back-up rain plan you want to review, it makes sense to have a rehearsal. If you have a complicated wedding party entrance (separate songs for different people entering the wedding space or different musical cues for entrances), it wouldn't hurt to review the timing with a rehearsal.
If you're nervous.
Your wedding day is your day. If a rehearsal is going to give you peace of mind, do it! It can be calming to run through the physical motions of entering, walking down the aisle, and seeing exactly where everyone will be standing as you say, "I do."
If the wedding party needs to bond.
Your wedding party might pull together friends and family from different parts of your life that haven't previously mingled. A rehearsal is one way to get them all face to face and maybe have a few laughs before the big day. Have dinner afterward (or before) and keep people chatting.
However…
There must be someone in charge. Without a leader, a rehearsal can drag on all night. Your wedding co-ordinator is an obvious choice if you have one. Your venue may have a co-ordinator who can help you out. Or you could appoint a friend or relative with an organizational streak and a commanding voice – preferably someone outside the wedding party. Make sure this director knows exactly what you want. You should aim to walk through the entrances and exits from the wedding space at least twice. More times if you are working out details of timing/music selection as you go.
What about the officiant?
You can have a useful and beneficial rehearsal without the officiant or celebrant present. After all, they already know where they are going to stand! All Seasons officiants will schedule a planning meeting with you about a month before the wedding, where they will go over all the ceremony details.
With that said, the officiant may be a natural choice to direct your rehearsal. They have a bounty of wedding experience and may be able to offer suggestions for where people should stand or how transitions could take place. They often have strong leadership qualities….and loud voices.
Things to avoid
It's best to avoid having too many extra people at the rehearsal. It is nice to spend time chatting, but there is a task to accomplish. Invite the plus ones to dinner or drinks after.
Keep an eye on the clock. Even though these last preparations before the big day are exciting, don't let the rehearsal drag on too long. People will burn out and quit listening. As well, your venue may cap you at an hour or hour and a half and you want to make sure you cover all the important details.
Don't worry so much. Even with a lengthy rehearsal and carefully scripted plan, things may go awry. A flower girl who missed her nap may decide not to walk down the aisle or the ceremony programs might get left behind. Just breathe and carry on.