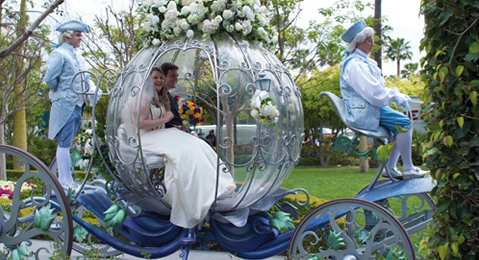 June 30, 2017
It can be great fun to run with a theme. From attire to decorations to food and favours, some motifs lend themselves to all aspects of your wedding planning. And yes, finding the perfect cake topper to complement your theme may be cause for a small celebration. If you are someone who enjoys the planning, a theme can seem like a good idea.
The officiants at All Seasons Weddings have seen and done it all – including many theme weddings. Officiants have dressed up as wizards and Santa and a Star Trek officer just to name a few. They have also presided over ceremonies in some unique and sometimes challenging locations, including a baseball diamond, a roller coaster platform at Canada's Wonderland, and at the end of a muddy ATV trail.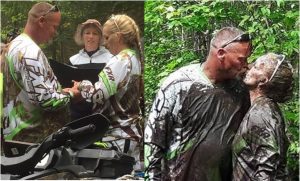 If you're considering a theme wedding, whether it be Harry Potter, Day of the Dead, the Great Gatsby, or something else that catches your fancy, here are some things to think about.
Don't be upset if your guests don't play along
If you are having hundreds of guests, they won't all want to play your game. Some of them will just politely decline to dress up or get involved themselves. Others may just be puzzled by the whole thing – especially if your theme is drawn from current pop culture. Maybe grandma hasn't read Harry Potter.
Remember the photos last a long time
While not as permanent as a tattoo, wedding photos have a way of sticking around. If you think you might ever get tired of explaining your wedding theme to curious relatives, or your kids, or grandkids, every time someone throws back to your big date on social media, maybe a theme wedding isn't for you.
It's better if it means something
A wedding theme should speak about your personality or your love story in some way. Maybe you both really love Game of Thrones. Is that enough to remind you in 25 years why you were wearing fur and chewing on a turkey leg with your direwolf by your side during your wedding reception? It has to mean something. Baseball makes sense if you met playing on a beer league team and bonded over your favourite pro team. Maybe all your dates were to superhero movies and your guests will know that you have both dressed as superheroes at Halloween since you were little. Maybe you are both world travellers with a bucket list of destinations you plan to visit together. Pull an element from your real life and go with it.
Make sure you have an officiant who is on board
While some officiants will be excited to dress up or change the ceremony wording to support your theme, others may not be comfortable doing so. These are questions you want to ask before putting down your deposit.
Getting carried away with a theme is a sure path to unnecessary expenditures
Those "have to have" extras that match your theme might seem like a good idea at the time of purchase, but have a way of adding up. Do you really need those Cinderella carriage table number holders or the fairy wings for the flower girl? Pick a couple of theme elements that won't break the bank.
Sometimes less is more
A theme can quickly become overwhelming. Your guests may appreciate small nods to your motif, such as a creative line or two in your ceremony or a particular style of cake or hair accessory, more than a full blown Tim Burton-esque fantasy world.
Your theme can be fun!
After perusing the pages of bridal magazines and blogs you might start to think that weddings with themes are the norm. Phrases like "Wizard of Oz-inspired nuptials," "whimsical Cinderella scene," and "opulent 1940s styled wedding" abound. Don't stress. Many amazing weddings take place without a theme. Focus on friends, family, food and your day will be memorable and fabulous.