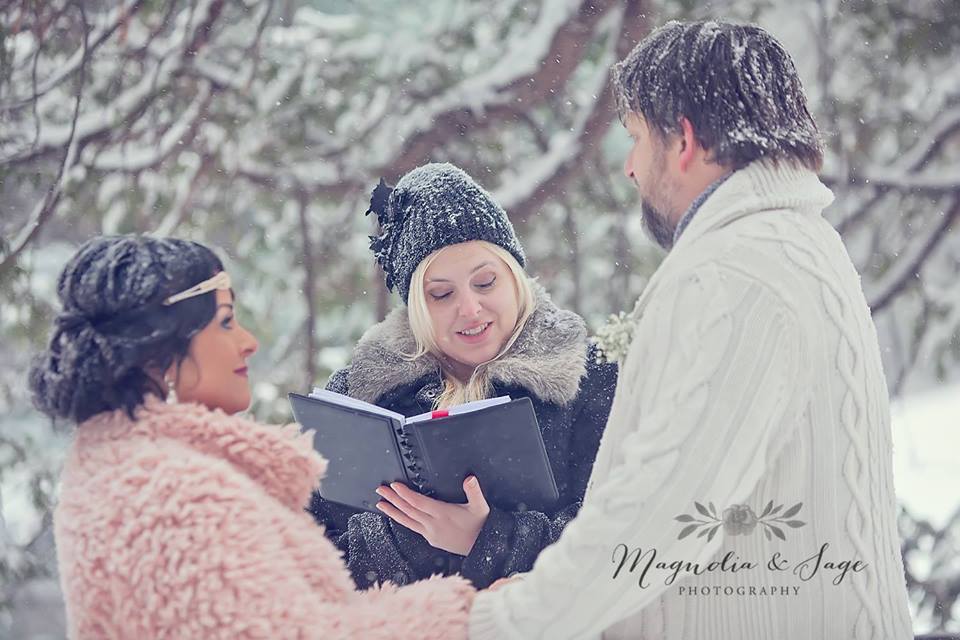 February 10, 2017
There is a lot of flexibility when it comes to the words and actions that you use to proclaim your love and support to your spouse at your wedding. The right wedding officiant will be willing to perform a personalized and beautiful ceremony that will represent your love story.
If you would like to have traditional elements such as the bride's father walking her down the aisle, vows that include words such as "in sickness and in health, richer and poorer," a reading of 1 Corinthians (Love is patient, love is kind…), or a kiss to seal the deal, then by all means, include them. However, there is no reason to feel bound by convention.
The ceremony can include stories and jokes, it can reference your favourite movies or the activities, sports, or hobbies that brought you together or helped your relationship grow. Throw in a favourite song, dance down the aisle, or read a poem. The right officiant will be flexible and understanding and want to work with you.
Legally, the ceremony must include a question of intent to each partner (Do you bride, take groom to be your husband?), the signing of the marriage license by the couple and two witnesses, and the officiant pronouncing the couple as married.
Ask for what you want
The point is, most of the ceremony content is up to you. Don't be shy! Ask your officiant for what you want. Choose an officiant who will listen to your vision and help you make it a reality. Some weddings officiants are willing to go even further and will dress the part for a theme wedding!
There are great ways to include your children in your wedding. Sand ceremonies or rose ceremonies can make kids feel included and can offer a visual representation of the new family being created. Children can also sign the "record of solemnization" portion of the marriage licence. It is the keepsake portion of the licence that you will keep.
Pets can be included too. Make sure you find an officiant who will be comfortable with this and make sure you have someone to help pet-sit after the ceremony – after taking some cute fur-baby wedding photos.
A good officiant will be able to make suggestions for your ceremony content, work with you to develop the ceremony you want, and then manage the flow of the ceremony on the big day by soothing nerves and high emotions and reminding you to look at your partner – the reason for the festivities in the first place. On your big day, let your personality shine!