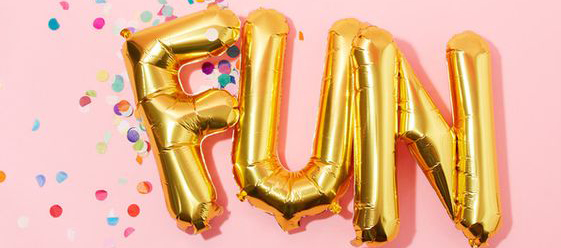 April 27, 2018
It's your big day and you want to have fun. And you want your wedding guests to enjoy themselves. So how do you do it? We've got some suggestions to add some playfulness to your pledges.
Set the wedding tone in advance
Clever or witty invitations and RSVP cards will give guests a clue of what is to come. You could include a silly photo of the two of you. Examples abound on the internet.
Awesome officiant
Finding the right officiant is key. Interview officiants before booking to make sure you find someone who jives with your sense of humour. Your officiant should be agreeable to including some humour into your ceremony in the form of anecdotes about your relationship, some personalized vows, or a funny poem or reading. At All Seasons, you will find an officiant who will deliver a ceremony that suits you.
Witty words
Create a program that include nicknames or fun facts about each member of the wedding party. Make it lighthearted by using some fun fonts or including a picture or artwork.
Aisle of smiles
There's room for humour in your ceremony procession too. All Seasons officiants have seen some wacky and wonderful stuff, from a bearer of rings dressed as a bear to a burly six-foot "flower boy" who danced down the aisle tossing flower petals as the replacement for a young flower girl who couldn't make it. There are also a ton of cute signs you can make to have kids carry as part of the procession.
Make a joyful noise
Provide noisemakers or bells to guests to use at the ceremony when you share your first kiss and at the end when you are formally announced as a married couple. Bubbles are also fun for young and old guests and can make for some nifty photos outside.
Photo frenzy
Lead the way by taking some lighthearted and goofy pictures with your wedding party. It will get you laughing at yourselves and each other. A photo booth with props can encourage guest shenanigans at the reception. Create a wedding hashtag so everyone can share and get in on the fun.
Reception connection
Set the example at your wedding reception. Let loose and show your guests you're ready to have fun; they will follow. You could co-ordinate a fun first dance or play the "shoe game" or do something else to get guests giggling.
Let the small stuff roll off you
Chances are, not everything will go perfectly. Despite the best planning, there can be hiccups on your wedding day. Make the decision ahead of time to go with the flow and try not to let a small mistake or problem take the fun out of your wedding. Go into the day with a relaxed attitude and a smile and you'll be laughing until the last dance of the night.