April 12, 2019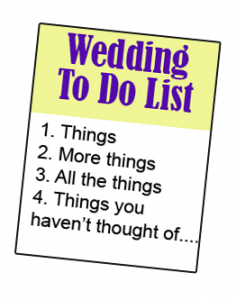 When you get married it can feel like there are a million things to do…and it can feel like a million people want to help. There will be certain people that will expect to be included in the preparations – bridesmaids/men, best men/women, and perhaps parents or siblings. There may be other special people that won't be central figures, but you'd still like to give them a little job or carve out some time for them on the big day. What follows is a list of tasks and activities that you can delegate or offer to make everyone feel involved. Just remember to keep tabs on who is doing what!
In the months, weeks, days before:
Creating ceremony programs (great for techie youth or grownups).
Crafting table centrepieces.
Creating or packaging wedding favours.
Wedding dress shopping. A grandmother or godmother would be thrilled to be invited along.
Making "goodie bags" for children attending the reception (going to the dollar store and selecting crafts/toys/trinkets, creating a special colouring page, etc).
Creating a photo collage to display at the reception.
Creating a slideshow or video with photos/video clips of the couple through the years to play at the reception. Great for a tech savvy teen.
Addressing invitations (or if you know someone paper crafty , making invitations from scratch).
Choreographing a dance for the reception. A great way for either partner (or both) to spend time with some special people. Kids will love this.
Airport pick-ups for out-of-town guest arrivals.
Before and during the ceremony
Picking up flowers/bouquets from florist
Placing some decorations at the ceremony location and/or reception venue.
Help the bride get dressed/hair done/make-up. Grandma might love to be part of the action
Place reserved signs for seats at the ceremony location
Ushering – it may have fallen a little out of fashion, but showing people to a seat is often appreciated by guests who don't know where to sit at the ceremony.
Handing out programs at the ceremony or bubbles for afterwards.
Carry the rings (caution that small children may be unpredictable in this regard)
Being part of the wedding procession (ring security, flower girl, maid/men of honour and best men/maids)
Delivering a reading or poem during the ceremony.
Singing or playing an instrument during the signing portion of the ceremony.
Making announcements before the ceremony (couple have asked that guests not take photos during the ceremony. Join us for a group picture after the ceremony. Remember to turn off your phone.)
Reception
MC at reception.
Making a speech/toast.
Unofficial reception photographers (great for kids who will be on their phones all evening anyway) You can even make them a badge or card on a lanyard to display.
Responsible person to take care of gifts and cards.
Delivering bride and groom a safe ride to where they are spending the night.