January 13, 2021
Music is a great way to personalize your wedding day. From walking down the aisle to a first dance to the last song of the night, choose songs that you love and that represent you and your love story.
Ceremony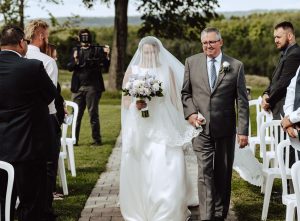 How many songs do you need for your wedding ceremony? At the Ottawa Wedding Chapel, we normally say three – one to walk down the aisle, one during the signing portion of the ceremony, and something joyful and peppy at the end, after you are formally announced.
There can be extra songs added of course. Some couples have a separate tune for the entrance of the parents, attendants, flowers girls, etc. and then switch to a different song just for the partner walking down the aisle.
We do, however, caution you against using too many selections at the beginning. Unless your entrance is a particularly long walk, each piece is heard for just a brief period and too many changes will make it sound choppy and could also be challenging for whoever you put in charge of the music.
The songs you select are up to you. While you can walk down the aisle to classical favourites Pachelbel Canon in D or Mendelssohn's Wedding March, don't be afraid to spice it up a little. Select something from a favourite movie soundtrack or a song you sing to each other when it comes up on your playlist. You have permission to be quirky or even silly. You might have your guests thinking, "That's so them!" when they hear the first few bars. We had one couple who played the Jeopardy! theme song during the signing of their marriage licence. Another couple selected a children's song that their kids loved as their final song and they all danced down the aisle together at the end of the wedding.
Live music – Live music is always a treat. From a harpist to a violinist to bagpipes, we've seen all types of live music. If you would like to have someone sing (the acoustics in our chapel are amazing), the best place to incorporate that is during the signing of the marriage documents. It can be a bit of a lull in the ceremony while the couple and witnesses are taking their turns to sign. A live music performance is more likely to keep your guests engaged.
Reception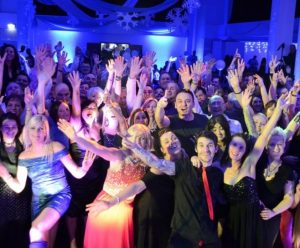 If you are using a DJ, take the time to chat with them about the kinds of music that you like.  Also remember that they are professional and through experience they know what normally keeps a dance floor full, so resist the urge to micromanage. Allowing your guests to make requests is one way to make sure they get their fave songs.
If you are simply creating your own playlist, give some thoughts to the ebb and flow of music and group a few similar songs together. If you get Aunt Jeanie out of her seat to bop to a Beatles song, don't follow it up with something harsh and modern. You'd like her to stay on the dance floor for a few turns.
The downside to a pre-selected playlist is that guests aren't able to make requests. And we've all been at parties where the playlist gets hijacked by someone with a specific musical taste. A professional DJ keeps that in check.
The songs that you select for your first dance as a couple and any dancing done with parents, should be meaningful to you. Don't worry about being proper or meeting expectations. You can go with a heavy metal ballad, or reach back in time to the 60s, or pick a cover by a band that nobody else has ever heard of. These are your memories.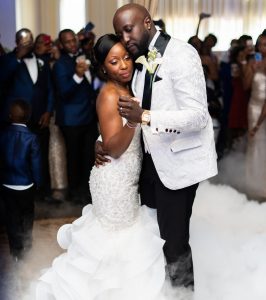 And if, on the other hand, Perfect by Ed Sheeran or All of Me by John Legend really speaks to you, don't be phased by the fact that it has been used countless times before. Embrace it!
Music can also be used as the soundtrack to a slideshow at your reception or to accompany the introduction/entrance of the wedding party. This is a great time to flex some musical humour.
Dinner music – If you opt for music during dinner, keep in mind that it will be a background sound. Instrumental is great or soft rock type tunes. Save the pumping dance music for later on.
You can also leave your guests with a musical history of your relationship. CDs may be past their prime, but you could provide a jump drive with digital tunes or a Spotify play list that includes music from your youth, tunes from your courtship, and culminates with the song you selected for your first dance.
Music is tied so closely to memory. Hearing a song later can evoke a specific time and place. Make sure that the music you select for your wedding day is meaningful and will help you relive amazing memories in the years to come.