May 28, 2021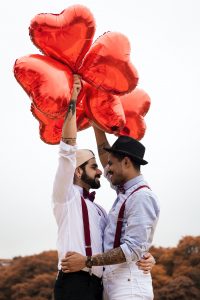 An elopement is a sudden secret wedding, often without parental consent. We've seen Covid-era micro-weddings referred to as "eloping" but usually these are just small weddings rather than true elopements. Parental consent isn't such a big deal in modern times, but sometimes people still choose a sudden secret wedding.
Why get married suddenly? There can be lots of reasons. Maybe you have been together forever and finally decide to make it legal. You may not feel the need to have a lot of wedding fuss because you have been living your vows every day. Maybe your schedule is incredibly busy, and you don't have time to plan a big wedding day. Or perhaps outside circumstances, such as pregnancy, job opportunity in another country, impending surgery or medical treatment, or end of life diagnosis will play a part. It's also possible that once the decision to get married is made, you just don't want to wait.
Why get married secretly? Some people don't like the spotlight and the idea of standing in front of dozens of people declaring their vows is too nerve-wracking. If this is you, eloping might feel like a huge relief. You may have a challenging relationship with your family, or there may be other challenging relationships within your family. If you're not convinced your divorced parents can be in the same room together without fireworks, eloping might be for you. It may be that your choice of partner is not approved by your family or friends. If people haven't been supportive of your relationship, why would you want them at your wedding?
The good news is that eloping is a completely normal and acceptable way to get married. You don't need permission from anyone!
What do you need to get married? In most of Canada, getting married is very straightforward (Quebec is the exception here.). You need a marriage licence, two witnesses, and a wedding officiant. The witnesses do not have to know you personally, they just are just there to witness you declaring your intent to marry your partner and the officiant pronouncing you as married. You don't need to have rings or vows, flowers or toasts. All Seasons offers a "Make it Legal" package with its officiants at the location of your choice (your home, a hotel room, a park – you pick!) The Ottawa Wedding Chapel also offers simple, straightforward elopements (with a nicer backdrop than city hall).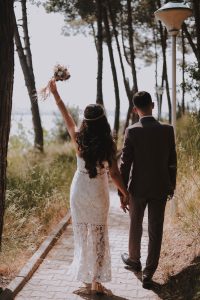 Potential side-effects of eloping. You may end up with friends or family who are disappointed they didn't get to celebrate with you. Weddings are still key milestones that many people feel should be shared. But guess what? Your family or friends can arrange a get-together without a wedding.
Don't feel guilty if you decide to elope. Your reasons are your own and nobody should feel they have the right to dictate how you decide to tie the knot with your partner. Eloping can be exciting and romantic. Imagine saying "I do" with a Rocky Mountain helicopter ceremony or with an intimate ceremony at the location of your first date.
It will save you a pile of money that you can put toward travelling, purchasing a home, or even just paying down your debt. This alone is a good reason to consider it. The average Canadian wedding costs $29,450 according to Wedding Wire in 2020.
Eloping is less complicated and less stressful than a traditional wedding. There is no need to follow any tradition. Run off and get married on a Tuesday if you want! Get married in your pyjamas at home. Book a hotel for the weekend and spoil yourselves with massages and a fancy dinner, and squeeze in a wedding in between. What is important is that the two of you commit yourselves to your life ahead in a way that feels right to you.
Photos by Marcelo Chagas and Emir Kaan Okutan from Pexels