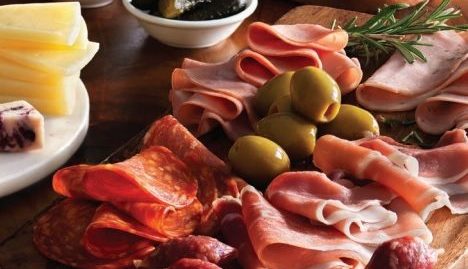 December 9, 2016
You want your wedding guests to feel pampered and well-fed, and you also want a chance to visit with as many of them as possible. A fancy sit down dinner will accomplish the first part of that equation, but not the second. The answer may be a cocktail style reception, that will allow your guests to mingle more. But will your friends and family still be well fed? Absolutely, if you do it right!
We recently served a charcuterie board buffet for 65 at the Ottawa Wedding Chapel. Not only does charcuterie allow you to include some high end and expensive meats and cheeses, without breaking the bank, it also avoids the potential disappointment of hot hors d'oeuvres gone cold. You can have something for everyone and allow guests to explore their palate, while still providing some standard favourites.
Charcuterie = tastes & textures

We tempted the guests at our recent reception with pumpkin hummus (fitting our fall-themed table décor) and locally made rhubarb chutney. These slightly unusual tastes were balanced out by more familiar cream cheese.
Charcuterie is all about providing a variety of tastes and textures, so we included soft and hard cheeses, spicy salamis and subtle cured meats, crisps and soft bread, fresh grapes and dried apricots, olives and nuts. Because the food is meant to be served at room temperature, there isn't a rush to get everyone fed. Folks can nibble throughout the reception.
A cocktail style reception also allows you to hold your event in a smaller (and perhaps more affordable) space, because you don't need so many tables. We had a handful of tall cocktail tables, as well as some seating around the outside of the room. You are also saving on the cost of servers – far fewer catering staff are required for a buffet style reception.
Passing on a traditional sit-down dinner also gives you the flexibility to change up other wedding traditions. No one will notice if you skip out on the speeches, for example. While you're at it, why not forego the fancy, and expensive, wedding cake and instead have bite-sized portions of all your favourite desserts.
Charcuterie restaurants are still riding a wave of popularity, don't be afraid to jump on it for your wedding reception. The benefits are many, one of the biggest being you will spend more face time with your guests.