March 17, 2021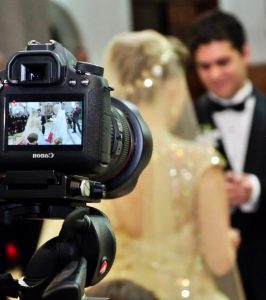 The Covid-19 pandemic drove us online more than ever. Everyone from preschoolers to grandparents has learned how to Zoom, or use other video chat tools. Video also became a bigger part of social media platforms like Facebook and Instagram, so it makes sense that we are seeing video as a bigger and more frequent component of wedding planning.
Here are some ideas to make sure you are making the most of the amazing technology we have available to us.
Save the date
We used to send cards by post, and while receiving a beautifully designed card on thick cardstock directly to your mailbox still carries a certain gravitas, it's cheaper and quicker to let friends know online. Save the date videos have grown in popularity. It's a chance for creativity and to hint at the type of event you are planning. For top-notch and completely customized results, you can hire a professional of course, but there are also video templates online for purchase, or even for free, where you can slot in some photos and your details and be good to go — or pop your iPhone on a tripod and freestyle your DIY.
Pre-ceremony
Video shines when capturing a couple's love and happy tears during a "first look" moment and some shots of the couple getting ready make a nice addition to a wedding video. Filming the venue before all the action begins also gives the couple a chance afterward to check out all the small details they may miss in the excitement – the perfect flower arrangements, a ring bearer having his tie straightened by his mom, or the look on grandma's face as she arrives at the church.
At the Ceremony
This is where the lockdowns and restrictions have hit the hardest. We are limited in the number of guests we can have physically present, meaning that some of the important people may not get to be there for your vows. The next best thing is to have them attend virtually by streaming the ceremony.
Make sure that your officiant mentions those joining online, with particular attention to anyone who is very close to you (grandparents or siblings, etc.) You can also have someone from afar take part by doing a reading — just make sure you've got a big screen so the folks at the venue can see the person at home.
If you're streaming the ceremony, make sure the device has a close-up and clear view, and use a tripod or solid surface to keep it steady. While the device microphone is probably good enough if you're inside, an outside location may benefit from an external microphone (possibly with a baffle to limit wind noise) to make sure everyone can hear the words being spoken.
Here are a few other tips:
Check out the wi-fi in advance at your location. Ottawa Wedding Chapel offers wi-fi to all users.
Review the different platforms and services to find the right one (Zoom, Facebook, Facetime, Teams, Google Meet, Youtube Live). They have different limitations re: number of people, etc. There is a nice summary at the bottom of this article.
Do a test run with your equipment in advance.
Make sure everything is fully charged!
Password protect your livesteam or virtual "room."
The Reception

If you are hiring a professional videographer, you can include some reception moments in your video coverage, like speeches and first dances. If you are winging it on your own or have decided to only have professional video for the ceremony, appoint a trusted friend or relative to capture some of the reception fun.
You can set up a video station somewhere at your reception venue. This can be used in different ways. If you're going live, it allows guests who are there in person to interact live with guests who are online. And it goes without saying that the wedding couple needs to make it a priority to stop by for a chat with virtual attendees. If it's live, we also suggest having it be active only for a certain time, rather than all night long – virtual guests will tire quickly if there is too long in between visitors.
If you don't want to livestream from the reception, a video booth can still be a fun way to collect video messages from the guests who are there. You may want to prepare a list of questions for them to answer so they're not stuck for ideas. Video should be located in a quiet corner away from the speakers.
Wedding Video
Wedding videos have come a long way. They are now often slick Hollywood-style productions with drone footage, and a variety of soundtrack tunes. Professional videographers are going to supply a professional product, so if actually hearing the vows and having everything in focus and smoothly recorded is important to you, you should spring for the experts.
You may also end up with a great video by asking for any tech-savvy teens to collaborate on shooting/editing. It will give them something fun to do, and you could wind up with a surprisingly good product – but you never know.
Getting Creative
You may have seen the example (pre-Covid) of a GoPro strapped to a bottle of Fireball that caught a unique perspective of everyone who took a slug. (Google it; it was a THING.) Small cameras can be added to a bouquet, or the lapel of a suit to give an up-close perspective. A pet-cam will give you some silly footage from a down-low viewpoint. You can also think about creative placement such as next to the officiant's face (or on the officiant) during the ceremony looking out at the couple and the guests. Other suggestions for innovative angles include having the make-up artist wear a camera while the wedding party is having their make-up done, or capturing some above the dancefloor footage.