January 19, 2022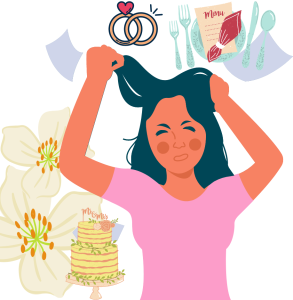 Getting married can be stressful and getting married in the time of Covid-19 has amped that stress level way up. We've put together some tips to help keep you focused and avoid spiraling off into the stress abyss.
Decide what is important to you
What do you want to remember about your wedding day? What do you want your guests to remember? Set some end goals and then work backwards. When questions come up and you feel pressured to make decisions, go back to those goals and use them to give yourself permission to let some things go. If you've decided dancing to boppin' tunes with your friends and a killer dessert are at the top of your priority list, you can get the cheaper napkins or pass on buying fancy shoes/wedding favours/fresh flower centrepieces and not give it a second thought.
Covid Caveat: In a landscape of changing regulations for social interactions, decide what is a deal breaker. Do you require dancing? Drinking? Can you be happy with 20 guests or will you hold out for 200? Talking about it in advance can make it easier if the time comes and you have to decide to move forward or postpone. Take it a step further and make a tiny wedding back-up plan. You can't control the Covid situation. You can be prepared to manage your wedding to fit regulations.
Keeping things smaller to start with
A smaller wedding can end up being easier to plan and less expensive as well, so it might be less stressful to start with. We have certainly seen couples with small Covid weddings say it was a blessing in disguise – they had a ready-made excuse for not inviting far flung cousins and work acquaintances and it kept them focused on what was really important to them. Keeping your wedding party tiny can also prevent drama and keep the day-of logistics simpler.
Manage family expectations
Pleasing family can be a huge stressor. As much as possible, try to be firm with your wishes and let family know from the very beginning of planning what they can expect. If parents are paying, negotiate the areas where they will have a say. Be upfront and honest about what is important to you – and what stresses you out.
Build in time to your wedding day schedule to relax
Space out appointment times, taking into consideration that hair or make-up can take longer than anticipated. Plan for lunch. Sitting down and eating something will give you time to breathe and enjoy the company of your wedding entourage. Not to mention that food will help keep you fueled for the big event to come.
Some couples like to remove themselves from the hubbub right after the ceremony and find a quiet place where they can spend a few moments in just each other's company. See what options there are at your venue. Some venues have a suite for your use where you can sneak away and chill out for 15 mins in the middle of your reception with nobody trying to take your picture.
Take a break
Make sure planning doesn't take over your life. You need time to take care of yourself and time to spend with your partner not talking about your wedding. Schedule date nights where wedding talk is off limits. Lunch with friends and tell them ahead of time that you don't want to talk about the wedding. Schedule a relaxation massage in the week before your wedding.
Get help and delegate
You are only one person. Even if your future spouse is on-board to plan and organize by your side, you are still only two people. Face the fact that maybe you can't do it all and get help. You can hire a planner (even a consultation for couple of hours with a professional might help you get a better handle on your to-do list and give you a solid plan for moving forward) or enlist family and friends to help. When delegating to someone, be specific in your requests and budget, and then try to let go of the need to control that task.
Stay organized and don't leave things until the last minute
Whether it's with lists or charts, on paper or an app, checking things off is a great way to make sure that nothing gets missed. Knowing you are organized can also help keep stress at bay. If the idea of a list makes you break out into hives, maybe you have an organizationally inclined friend who would be happy to act as your coordinator, or hire a pro.
Roll with whatever happens on the day of
Keep your focus on the positives. There is a good chance that something won't go exactly right on your wedding day. You can't control all the external factors (weather, vendors messing up, accidents), but you can control how you respond. Remember that the guests don't know how things are supposed to go. If there was no wedding cake they would assume it was by design rather than you forgot to pick it up. If something goes amiss, look at your partner and remember the purpose of the day. Everything else is secondary, so you might as well try to laugh at any hiccups along the way.