October 24, 2022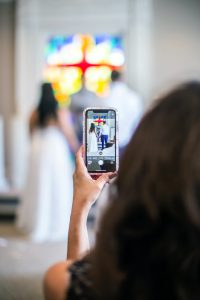 You see it all the time – people viewing the world through their cell phone cameras. For example, recording video of a fireworks display, taking a million photos of an iconic landmark and fiddling with filters trying to get that one 'gram-worthy shot, and, unfortunately, taking non-stop video or photos of a friend's wedding ceremony. In all cases, these people are missing out on being in the moment and having the fullest experience. So how do you make them stop for your wedding?
Ask nicely….and more than once
Set your expectations from the beginning by mentioning in your invite that you are having an unplugged or device-free ceremony. Explain that you have hired a professional photographer or appointed a specific friend to capture the event. If you are having wedding programs you can mention it again there by saying, "Thanks for respecting our wish to have a camera and phone-free ceremony." You could also set a sign at the entrance of your ceremony venue to remind people. Finally, ask your wedding officiant to make an announcement before the ceremony begins telling guests to put their phones on silent and put them away so they can be fully present and enjoy the moment with you.
Or try for a compromise
Another option is to ask guests not to take photos until you have been pronounced as married. The officiant could announce at the beginning of the ceremony that cameras and cellphones should be stored until the end of the ceremony when the couple will spend a few moments posing for guests' photos.
What about people sharing "unsanctioned" photos online?
You know your guests best. Do you have the type of friends and family who carefully curate or those who post their entire camera roll (including the blurry ones)?
If keeping the lid on wedding photos until you have a chance to view and select your own preferred shot is important to you, you may want to take steps to help that happen.
First, ask your photographer if they can provide a couple of sneak peek shots so you can get a sanctioned photo out on social media quickly, ideally the next day. Another option is to take a "just married" selfie and get your own photo out first that way.
Follow the steps above for an unplugged ceremony. You should also think twice about a wedding hashtag – which will encourage people to post photos.
You can let guests know ahead of time that you would appreciate them not sharing photos online until you have had a chance to post your own. The same as asking for an unplugged ceremony, your options for asking and reminding guests not to post on social media are in the invitation, in the program, via a sign at the venue, and an announcement before the ceremony begins.
You can also review your social media settings and adjust your privacy so people can't tag you or tagged photos won't show on your FB or Instagram pages.
Best of both worlds?
If you do want friends and family to share photos from the reception, you can reveal your wedding hashtag at the reception venue. You can also create an Instagram-worthy backdrop or seating area and have a sign encouraging people to take photos.
There will always be one
No matter what you say or do, there will always be someone who doesn't play by your rules. Try not to get upset. Maybe they are truly addicted to their phone. It's their loss for not taking time to be in the moment with you. And a good photographer can work around them.