March 24, 2017
There is nothing that can compare to the beauty of light falling through a stained glass window. At the Ottawa Wedding Chapel we have some of the most beautiful stained glass in the area. Featuring flowers, rather than religious iconography, our windows have a wide appeal.
Long History
Stained glass is a form of painting that began over 1,000 years ago. One of the oldest known examples of multiple pieces of colored glass used in a window were discovered in Jarrow, England at St. Paul's Monastery, which was founded in 686 AD.
The glass makers were called glaziers, and while most never left a signature or identifying mark on their artwork, during the middle ages they belonged to very powerful "guilds." Companies that built stained glass would be under contract with these guilds and could not produce windows without an "official" glazier being on site. Metallic salts were added during the glass making process to produce glass of different colours.
A stained-glass window consisted of pieces of coloured glass held together in by a web of lead. In early days, the glass had details such as faces and hands painted and fired on to it in black or brown paint.
About the year 1300, stain was discovered that had the ability to turn white glass yellow or blue glass green after it was fired, opening up more colours and shading options. The term "stained glass" derives from this silver stain that was applied to the back side of the window.
Some of the most powerful art produced in the Romanesque and Gothic time periods were religious visual stories, in French cathedral windows. Advances in construction made it possible to make larger windows. Because of this the craft underwent a revival and was used as a storytelling medium, consisting mostly of biblical scenes.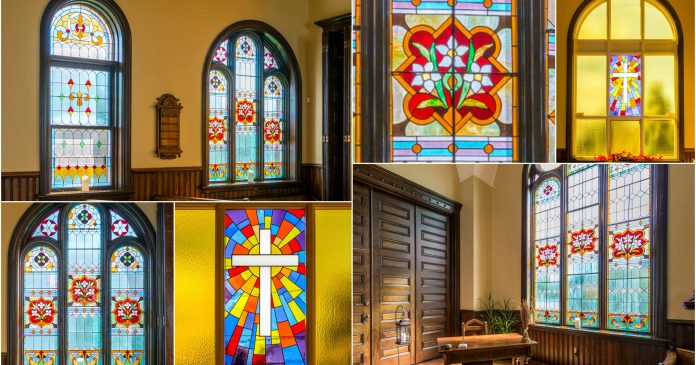 Modern Glass
In the 17th and 18th centuries, glass making was in decline. It wasn't until the 19th century that another revival took place. Less expensive production methods made it more accessible to a wider range of people. US inventor Louis Tiffany used copper foil and solder to connect the glass pieces instead of lead. This development also allowed for a higher level of detail. His company, Tiffany Studios was a huge success and Tiffany lamps became especially popular.
Now stained glass has reached the masses, with home glass studios common for hobbyists. Regardless of its popularity, a beautiful piece of glass lit by the sun remains a breathtaking view.
The stained glass windows at the Ottawa Wedding Chapel are remarkable for their design. They provide a calm, soft natural light without an overbearing "churchy" feel. They are a wonderful backdrop for photos. If you are looking for a more spiritual presence, the chapel does have one large window that features a cross.