November 21, 2016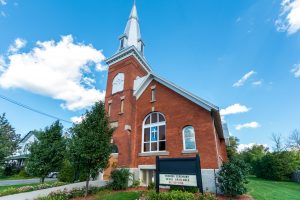 We love weddings. It's a huge part of what we do here at the Ottawa Wedding Chapel. We've seen so many, and each one is different.
Many couples choose our chapel because of its intimate feel and elegant aesthetic. It's the perfect combination of warm wood, stunning stained glass, and fabulous acoustics. Nearly every couple who come for a tour end up booking.
We've decided that we'd like to share our stories and ideas with you…so we've started a blog. Here you will find everything from stories and pictures from wedding dreams we've helped come true at our chapel, to ideas we've collected from elsewhere on the web. We've got some good advice for you, and will sometimes share a laugh with you too. We'll introduce you to other local Ottawa-area companies in the wedding biz and showcase some of the great products and services they offer.
We hope you will come talk weddings with us!